Today we're introducing you to another inspiring ethical blogger, Jamillah from Made-to-Travel!
Fair for All: Describe the focus of your blog.
Jamillah: I always say Made-to-Travel is a place for ethical shopping and happy things. :)
Why do you choose to write about these topics? What motivates you to pursue an ethical lifestyle?
I choose to write about ethical shopping because I really know it's possible to find any wanted item ethically and I want my readers to be inspired to buy ethically for their needs for the next season and every season! So when it comes to writing ethical shopping posts I really think of what is going to be the next need for my reader, that's usually a new trend or a seasonal item.
The other features on Made-to-Travel: Good Habits, Smile Files, DIYS, etc., are all topics I gravitate to naturally in my life but also, while I love promoting ethical shopping and all these wonderful ethical brands, I don't want to write about retail all the time. There are so many wonderful things to share in this world and I want to do that too! So these posts nicely break that rhythm for me while still providing my readers content I really think they'll enjoy and benefit from.
My motivation to live an ethical lifestyle really all began with thinking about my purchases a little differently. Every single thing we buy has a story and buying from brands that continue to take advantage of lax laws, developing countries, and less fortunate people helps continue that story…and I strongly believe that's true. So I made the decision to really only purchase from places where I believe in their story. My purchases now all help continue a story of empowerment and the power of purchasing creating a better world and doing that makes me feel great. :)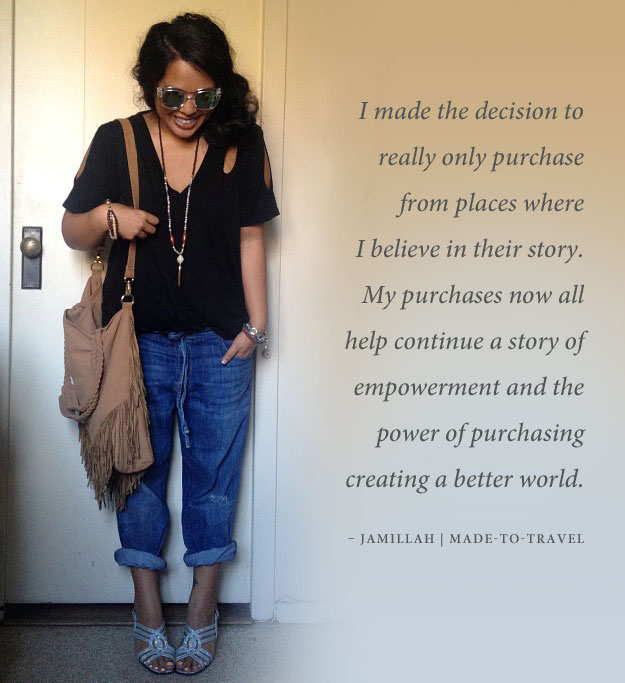 What makes a product or company ethical to you? When you're making a purchase or deciding what to write about, what principles or criteria guide your decision?
First and foremost a company has to have ethical manufacturing practices for their work force, that means fair pay, working conditions, and hours. I do a lot of reading of manufacturers' labor standards, if they're fair trade, or if they're not I see what 3rd party groups audit their standards, how they pick their factories, I see where a product is made, I see what people have been saying about them…and if I'm unsure about a policy I ask—so easy to just ask! I also don't buy new leather…the only leather I buy is vintage or upcycled leather (i.e. reuse/remnants, bi-products from food industry etc.). But really the guiding principle for me is that a brand is kind to people. That will always always be priority number one.
What are your top 3 favorite ethical shopping brands or websites?
MY GAWSH—so hard this question!!! Bah! Okay I'm sorry I'm cheating and not limiting myself to 3! Sorry!
For clothing ASOS Africa is one of the first brands I featured on Made-to-Travel and is still one of my super favorites. I really love EVERYTHING KowTow makes super modern, clean, and easy. If you look at my internet history I stalk Clover Canyon in a real way, their prints are just so beautiful and everything is made in the USA—I haven't shopped there YET, but I'm definitely saving for a special piece from them. And lastly I really really love the modern classic pieces coming from Everlane.
For shoes I am obsessed with Melissa Shoes and Cri de Couer—they both have a nice mix of trendy and classic shoe styles plus they're cruelty free with ethical manufacturing practices!
Here are some recent posts from Made-to-Travel to check out:
For more ethical blog recommendations, check out the rest of our Meet an Ethical Blogger series or visit the Resources page.