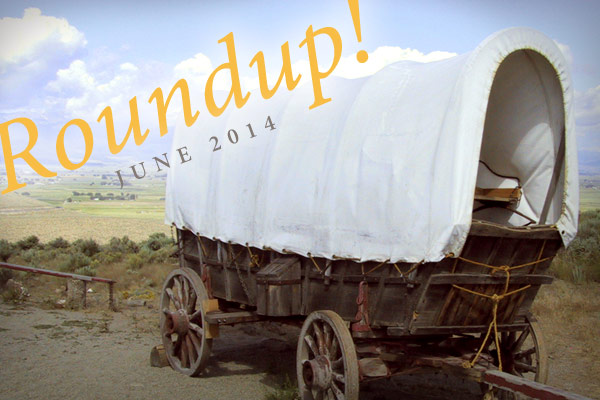 Circle the wagons, it's roundup time! To be honest, I didn't spend a ton of time reading this month. I was too busy trying to get outside as much as possible! However, the stuff I did read was top-notch quality. Check out the links below!
You Don't Have to Feel It —This post blew my face off with truth. It explores our motivations for doing good, and how emotion can't be the only motivator we have. (Style Wise)
Dov Charney: the man who put the sleaze factor into American Apparel — American Apparel founder and CEO Dov Charney was ousted this month in relation to alleged misconduct (he's a notorious creeper, to say the least). I love the manufacturing ethics of American Apparel but have always felt weird supporting them because of their over-sexualized photography and Charney's grossness. Hopefully his removal means the brand can move in a less offensive direction. (The Guardian)
Benefit Corporations Look Beyond The Profit Motive — Basic overview of the concept of "benefit corporations" (commonly known as B Corporations). The quote below addresses what I think is one of the keys for social enterprise to really take off. Profit isn't everything! (NPR)
There are legal protections when a state signs on: A shareholder can't sue a benefit corporation for valuing the environment as much as profit.
— Benefit Corporations Look Beyond The Profit Motive
Greenpeace Reviews Major Food Retailers for Sustainable Seafood Purchasing — One of the best and easiest-to-understand articles I've seen about sustainable seafood. (Triple Pundit)
2014 Trafficking in Persons Report — This annual report ranks countries into tiers based on their efforts toward combating human trafficking. (U.S. State Department)
Reader Request: Ethical Jeans — In my post of pants recommendations for Sarah, I noted that ethical high-end jeans being pretty widely available. And what do you know, Jamillah coincidentally just wrote a post with ethical jeans recommendations! (Made to Travel)
Host a Clothing Swap! — Dominique shares helpful step-by-step instructions for organizing a clothing swap with friends—a great way to give old clothes a new home! (Let's Be Fair)
Top 3 Resale Sites — Elizabeth reviews her favorite apparel resale sites with helpful notes on return policies and how to sell. (The Note Passer)
Did you read the Style Wise link at the top? Go do that now. Then have a great week!