Thanks to everyone who came out to FairSwap15 last week! Check out the gallery of awesome photos by Abigail K Photography, and keep an eye on our new Events page to find out when the next swap will be.
For the last seven years or so—ever since I learned that sweatshops and poor labor conditions in factories were not in fact eliminated in the 1990s and remain widespread today—I've done the majority of my shopping secondhand, which I consider to be an ethical choice for a variety of reasons. Thankfully, I live in Indianapolis, a city rich with excellent thrift, vintage and consignment shops. This Secondhand September, I wanted to share my picks for the best secondhand stores in Indianapolis.
I go to Goodwill like other people go to Target. It's my first stop for almost any purchase. They have almost everything, I live right by the excellent N. Keystone location, and it's reliably well-organized and clean.
25+ locations in the Indy area
Price point: Most items under $10
Good for: Clothing and home items particularly, but they have virtually everything
Need to know: Hit a savings bonus by shopping their "color of the week" (not the actual color of the item—each item has a different colored plastic tag) for 50% off.
Despite its unique name, Vintage Vogue is actually a Goodwill store with a twist. It stocks items from the Goodwill donation stream but is arranged and styled like a boutique to provide a more conventional shopping experience. The selection is curated to include higher quality, trendier items, which is great if you don't have a lot of time to invest in sifting through the racks.
2361 E 62nd Street
Price point: Slightly more expensive than a regular Goodwill store. I paid $10 for jeans and $8 for a shirt there once.
Good for: Women's clothing
Need to know: Vintage Vogue is located close to the N. Keystone Goodwill location as well as The Toggery, making Glendale an efficient neighborhood for a big shopping trip.
I go to Value World when I'm shopping for costumes. The selection tends to be a little older and quirkier (though I've gotten some very wearable shirts there), but the super-low prices are perfect for buying something you plan to modify or wear infrequently. I also like to shop for shoes at Value World because they keep most of the shoes in one area instead of spreading them out a la Goodwill.
4 locations around Indy
Price point: Generally very low. Some items are priced at $1-2.
Good for: Tops, shoes
Need to know: There are no fitting rooms at Value World, so don't plan to buy anything there where the fit is really important.
Do you like The Doors? Good, because that's pretty much all they play as the soundtrack at Broad Ripple Vintage, and it represents very well what you'll find there.
824 E 64th Street
Price point: Moderate
Good for: Men's & women's clothing
Need to know: The style at BRV skews toward the 60's and 70's hippie look, though there are outliers. They also have a great selection of 80's prom dresses and women's slips, crinolines and other retro undergarments.
I'm currently wearing my absolute favorite pair of black pants, which I bought at The Toggery. It's a consignment store, meaning they only accept what they think will sell, which leads to higher prices than a thrift store but a much higher quality selection.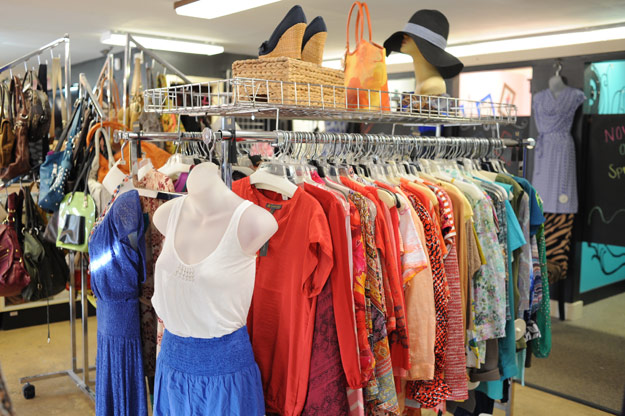 1810 Broad Ripple Ave.
Price point: Moderate. I recall these black pants being $12, but they also sell designer items at a higher price point.
Good for: Stylish, work-appropriate clothing
Need to know: Make money on your own unwanted clothes, shoes and accessories by consigning them here.
Lux & Ivy caters to the rock n' rollers of Fountain Square, according to owner Sara Baldwin Schatz. The vintage selections at her shop inside the Murphy Building have a distinctly edgy flair.
1043 Virgina Ave, Suite 209
Price point: From $5 – $100 depending on the era and condition of the item
Good for: Edgy vintage clothing
Need to know: The shop contains a mix of vintage and new items, so choose carefully if you're aiming for a 100% secondhand haul.
Thrifty Threads is a shop with a big heart. Clients from the Julian Center shop at Thrifty Threads for free to help get back on their feet. Proceeds from items sold to the public help underwrite Julian Center programs and services.
1501 W 86th Street
Good for: Clothing, furniture
Need to know: The National Council of Jewish Women also operates a boutique within the thrift store selling second-hand designer clothing.
Do you have a favorite secondhand shop not listed here? Share it in the comments!